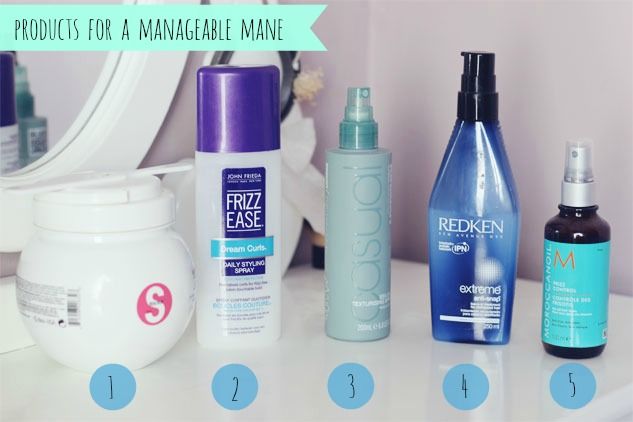 Hello! Tis Eloise here from
Frolics and Fashion
, Leanne has kindly let me loose on her blog whilst she's off sipping cocktails and getting a tan I'll no doubt be jealous of on her return. Whilst the rest of us gaze out of our windows at the dull English weather I thought I'd put a few products together that have really been helping my hair recently, whether that be battling damage or frizz these five little beauties have really pulled out the stops to give my hair a bit of a treat.
I'd heard both
Zoe
and
Sarah
say good things about this stuff so I thought I'd give it a go. I bought it from
Allbeauty
(rip cheap smells!) for around £20 and for the size of this pot it was a bit of a bargain! It's basically a deep conditioning treatment that you leave on your hair after shampoo-ing. You know the drill, the longer you leave it on the softer your hair feels. I tend to leave this for around 10 minutes whilst I'm faffing around in the shower, it smells like a minty milkshake and leaves your hair all soft and shiny. It can build up a bit though, so I only slather this on once a week.
It's a bit of a mouthful this one, but in a nutshell it's a heat protection spray for damp hair that you can spritz before styling or before venturing out into the sun. Although I don't have curly hair, whatever's fighting the frizz in this little bottle is amazing. I suppose it's because curly haired folk do tend to suffer from more extreme frizz so this is extra powerful.
I was too poor to shell out on the bumble and bumble version of this so I went for the cheaper option instead. At £7.49 it's a pretty good at it's job - making your hair look effortless and un-styled when intact you've coated it in product. A tip for this one though, don't spray it directly onto your hair as it can weigh it down, just spray a load into your hands then run it through your tresses and viola! Beachy hair.
I've been using this ever since my hair all snapped off thanks to way too much bleaching. You apply it to towel dried ends before styling and it claims to stop those pesky bits of hair snapping off when brushing etc. It's not the nicest smelling of products but it contains a massive amount of protein that really has seemed to help my hair with strength and growth.
I actually prefer this to the standard Moroccanoil as it's lighter and contains less silicones. I've done a full product review of this on my blog
here
but to cut it down into a little paragraph it's heaven for your hair in a bottle. It'll stop your hair from becoming straw-like and really reduces frizz in damp weather. And as with all Moroccanoil products it smells divine.
Have you used any of these products? What have

been your hair saviours recently?